Please read this important message:
Based on the North Carolina State Fairgrounds' closing of all public events of 100 people or more, the Fairgrounds Southern Ideal Home Show scheduled for April 3-5, 2020 has been cancelled.

Exhibitors will automatically be booked in your same space for our 2021 event, April 9-11, 2021. We will be in touch in the weeks ahead with more details. We appreciate your patience. Please be safe.

How to Use this Exhibitor Kit
Welcome to your Exhibitor Kit! Please follow the steps below to prepare for the show. Wondering where to start? New and returning exhibitors should follow these critical steps for success (scroll below this section for links, details, forms, etc):

1. Review the Exhibitor Manual with your show staff.
2. Place orders for show decorator services and utilities prior to the deadlines below.
3. Update or submit your Exhibitor Listing.
4. Go over the Must-Do Checklist to ensure your booth and staff are show ready.
5. Contact us with questions; we're here to help you have a great show!
IMPORTANT DOCUMENTS
2020 Exhibitor Manual
These are the detailed instructions including rules and regulations for exhibiting in our show.
Please review this manual in its entirety.

Southern Exhibition Services Exhibitor Kit & Order Form
Order your booth carpet, chairs, tables, and more! Reminder: Flooring is required in all booths. Tables must be skirted to the floor.
Pre-Order Discount Deadline: Friday, March 13, 2020

Must-Do Checklist
Reminders for Booth Quality and Exhibition Guidelines

Electrical Service
The cost of basic electric is included with each booth space, but you need to request activation. Please email Hannah Lewis at hannahl@mpeshows.com to request electrical service. Electrical services can be ordered at the show office in the Jim Graham building on-site during move-in, but will likely result in a longer wait time for activation.
Pre-Order Deadline: Friday, March 20, 2020
Free WiFi Internet Access
Free Wifi for Exhibitors (recommended): STATEFAIRVENDOR
Wifi Password: D0nk3yk0ng#
This network is for Exhibitors ONLY! Do not share password with attendees. They have the option of using the free public network STATEFAIRGROUNDSPUBLIC which requires no password and limits their connection time.
High Speed Internet Access Order Form
If you need access to high-speed internet, complete this form and submit it to the Fairgrounds as instructed on the bottom of the page.
Liability Insurance Application
All exhibitors are required to carry liability insurance (see your Exhibit Space Contract Terms and Conditions or the Exhibitor Manual for details). This link is a referral to an external website for convenience only; you are not required to use this specific company.
Lead Card
Print and use these to collect leads at the show. We highly recommend you have a plan to collect leads at the show! This is a quick and easy way to organize your leads to follow up with afterwards.

SET UP YOUR EXHIBITOR LISTING
Your Exhibitor Listing is your company's page on our show's website. It is your responsibility to add or update it with the information you would like to include. If you are a New Exhibitor, click here for instructions on adding your listing. If you are a Returning Exhibitor, click here for instructions on how to update your listing. When selecting a product category, please note that this will be the product category you are listed under online as well as in the printed Show Guide.
Food & Beverage Sampling Guidelines
All food sales and related sampling must be approved by the NC State Fairgrounds and Marketplace Events. Concession style food service is not permitted (prepared foods that can be consumed immediately). Pre-packaged food and beverages (candy, chips, bottled water, etc) may not be given out as promotional items. Pre-packaged food and beverages (packaged for preparation and consumption at a later time) may be sold and sampled, pending approval of the NC State Fairgrounds and Marketplace Events show management in accordance with the guidelines below.

- Sample being offered must be a product being offered by the exhibitor
- Beverage Sample Size: 2 oz. or less
- Food Sample Size: 1 square inch or less and fit in a standard 1 inch condiment cup
- Approved sampling must be offered in compliance with any regulatory requirements from Wake Environmental Services (919) 856-7419
- Any approved sample containing alcohol will be subject to the current State Fair Alcohol Policy

Email ErinC@mpeshows.com if you plan to sample or sell any kind of food or beverage no later than March 22, 2019 for review, approval, and sampling guidelines.
Bunk Bed Sponsors Needed

We are in need of sponsors for our Bunk Bed Build-A-Thon feature at the show! We have partnered with with the Durham chapter of Sleep In Heavenly Peace, an all-volunteer charitable organization that builds bunk beds for local children in need of a safe, comforting place to lay their heads at night.
Here's what you can do to help:
Sponsor a Bed for $350 (covers the cost of the materials from start to finish to build a complete bunk bed, 100% of your tax-deductible donation goes directly to the organization)
Sponsor a Team Bunk Bed Build with your employees (pledge your time to help build beds as a team-building activity anytime in 2020)
If you sponsor a bunk bed or a team build, you will receive recognition at the show such as your logo in our Show Guide, on signage at the show, and on our show's website listing you as an official sponsor of the Bunk Bed Build-A-Thon!
Email Erin Calabritto at erinc@mpeshows.com for a quick and easy sign up. Just shoot me a quick message to let me know you're ready to sponsor a bed, a build, or both! The deadline to sponsor to get the added marketing benefits is Friday, March 13, 2020!
Move-In
Tuesday, March 31, 2020: NOON - 5:00pm
Wednesday, April 1, 2020: 8:00am - 5:00pm
Thursday, April 2, 2020: 8:00am - 5:00pm*
*Drive-in access ends Thursday at noon to allow exhibitors with booths located in front of freight doors time to set up.

All exhibit booths must be set up by 5pm on Thursday; there is no setup allowed on Friday morning. Hours subject to change.
Show Dates & Hours
Friday, April 3, 2020 10:00 a.m. - 8:00 p.m.
Saturday, April 4, 2020 10:00 a.m. - 8:00 p.m.
Sunday, April 5, 2020 11:00 a.m. - 6:00 p.m.
Move-Out
Sunday, April 5, 2020: 6:01pm - 10:00pm
Monday, April 6, 2020: 8:00am - 3:00pm

Please note, the show floor in both buildings must be clear of all exhibit booths, materials, and vehicles no later than 3pm on Monday or you may be assessed a cleanup fee.
SOCIAL MEDIA
Follow us on social media! We are very active and love to share your posts!
Facebook: @HomeandGardenEvents is our company's main page, like us and look for our show's event within that page (please do not create your own Facebook event for the show, it creates confusion)
Twitter: @RALHomeShows
Instagram: @RALHomeShows
On any social media platform, use the hashtag #RaleighHomeShow and tag us in your posts to be shared!
Feel free to save and use the images below to share your participation in the show on social media!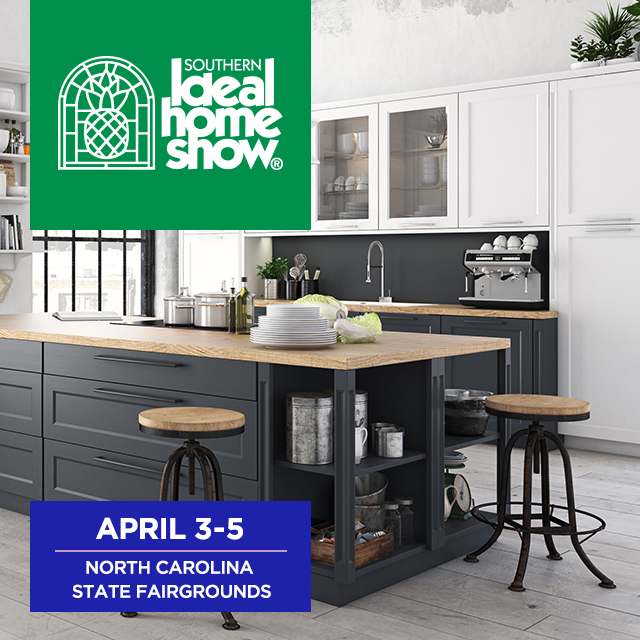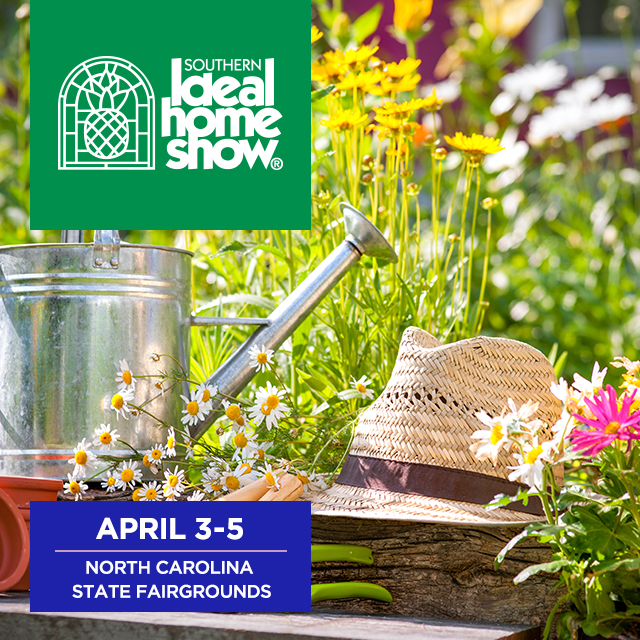 EXHIBITOR AWARDS
We have five categories with one award each. Awards are determined by show management. We take many things into consideration when deciding on award recipients, including but not limited to: overall contribution to the quality of the show, social media sharing, promoting attendance through distributing complimentary tickets, booth display quality, adherence to show regulations, and more. Awards are issued by Saturday of the show.

- Exhibitor of the Year
- New Exhibitor of the Year
- Garden & Outdoor Design Exhibitor of the Year
- Home Improvement Exhibitor of the Year
- Most Creative Exhibitor of the Year

Winning exhibitors in each award category will receive the following prize package, valued at $500:
Official Exhibitor Award trophy presented during the show
Team photo for use on your social media to announce your win
One complimentary Exhibitor Spotlight post on our show's blog following the show
Best of luck and thank you all for putting your best effort into making the Southern Ideal Home Show an outstanding experience for our consumers!
EXHIBITOR PARKING
Free and unlimited. You may park vehicles around the Expo Center and Jim Graham Buildings in the regular parking areas (all are uncovered lots, mix of gravel, paved, and grassy areas). Trailers and box trucks may be parked on the Southwest side of the Jim Graham Building, downhill on the gravel lot towards the corner of Hillsborough St and Youth Center Blvd.
AREA HOTELS:
Please note, the Hampton Inn closest to the NC State Fairgrounds may still be under remodeling/construction.
Wingate by Wyndham State Arena Hotel Ral
2 mi. from Fairgrounds
6115 Corporate Ridge Rd
Raleigh, NC 27607
Phone: 919-847-7383

Hyatt Place
2 mi. from Fairgrounds
Shuttle Service available to NC State Fairgrounds based on availability
710 Corporate Center Dr
Raleigh, NC 27607
Phone: 919-233-2205 or 1-800-492-8847

Hawthorn Suites Raleigh-Cary
3 miles/7 minutes from the Fairgrounds
1020 Buck Jones Rd
Raleigh, NC 27606
Phone: 919-468-4222

Ramada Raleigh
0.4 miles from the Fairgrounds
1520 Blue Ridge Rd
Raleigh, NC 27607
Phone: 919-832-4100