Bunk Bed Build-A-Thon in Support of Sleep in Heavenly Peace
Not only can guests at the Fairgrounds Southern Ideal Home Show, GET great ideas, products and inspiration at the spring show- they can also GIVE to local kids in need.
For the first time, the show is hosting a Bunk Bed Build-A-Thon along with charity partner Sleep In Heavenly Peace. This special onsite project will raise funds, recruit volunteers, and build beds for local children in need. At the show, guests can even lend a hand and give their carpentry skills a try!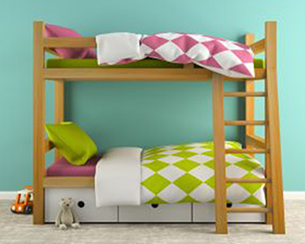 Across the US, too many kids go without a bed—or even a pillow—to sleep on. These children end up sleeping on couches, blankets, and even floors, which has adverse effects on their physical and mental health. Sleep in Heavenly Peace is a group of volunteers dedicated to finding those children who are sleeping on the floor or otherwise unwanted conditions and delivering hand-built bunk beds free of charge.
Each bed that SHP delivers to a child sleeping on the floor offers comfort and safety. Often times, the kids who get our beds have never owned a bed of their own. Every kid deserves a good night's rest and for only $350, you can sponsor a whole bunk bed for two kiddos, complete with two mattresses, two pillows, two twin-sheet sets, and two twin comforters.

For more info on the program or to pitch in with a hammer and nails, visit SHP at the show at booth #1432 in the Jim Graham Building. If you can't make it to the show you can donate directly to the organization here. (please click "I would like to dedicate this donation" and type in HOME SHOW to count towards our fundraising total)
Mar 12, 2020, 12:16 PM