5 Things to See & Do at the Show
Spring has officially sprung, and the Fairgrounds Southern Ideal Home Show is back and abloom with ideas, inspiration and advice on home improvement, garden, interior design, outdoor living projects and so much more. The three-day show is so packed with features, so to help visitors plan their itinerary, here are the top 5, must see, can't miss activities (aside from the obvious - see TLC's John Gidding):
1. Shop Smarter—and Save Bigger
WRAL's money-saving expert and author of The Smart Spending Guide Faye Prosser leads a workshop that will show you how easy it is to save on groceries and other everyday expenses. You'll learn tips and tricks that will change the way you shop and teach you to live more comfortably within your means. Don't miss "How to Cut Your Grocery Bills in Half" on the Fresh Ideas Stage Friday, April 5 at 1 p.m. and 3 p.m.; Saturday, April 6 at 1 p.m. and 3 p.m.; and Sunday, April 7 at 1 p.m. and 3 p.m.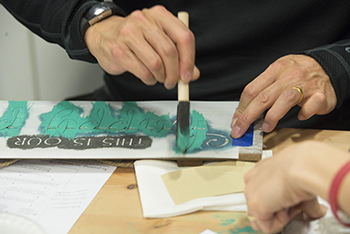 2. Make It, Take It Workshops
If you've ever watched a DIY show and tried to re-create a project at home but only wound up with a #fail, we've got just the thing. Our Make It, Take It workshop experts will lead you step by step through a DIY project from start to finish. The workshops take place daily in a custom craft room built right on the show floor by Affordable Closets. There is no additional cost to participate in the workshops. Space is limited, however, and workshops are filled on a first-come, first-served basis. Classes and experts will be posted online at raleighfairgroundshomeshow.com in the Make It, Take It Workshop section.
3. Celebrating Local Heroes
The Fairgrounds Southern Ideal Home Show celebrates Hero Day on Friday, April 5 with complimentary admission for all EMTs, firefighters, police, medical personnel, and active duty and retired military personnel. SImply show your valid ID at the box office for a free ticket. Offer valid Friday, April 5 only.vOn Sunday, April 7, the show honors another group of heroes—teachers. To thank educators for their hard work and dedication, the Show offers complimentary admission on Teachers Day.
4. The Great Outdoors.
A home is much more than simply the building one lives in. More and more people are incorporating the outdoors into their living spaces from landscaping to outdoor kitchens to water features. Local landscape architects Standard Construction & Landscaping, RB Landscaping, and aquascape designers Just Pondering have joined forces to create Outdoor Living Spaces, a unique and inspiring area specifically for the show.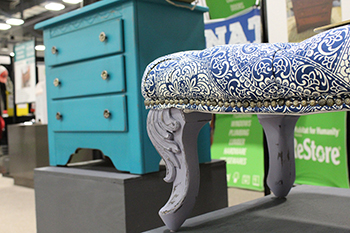 5. Habitat for Humanity for Furniture Flip Auction.
The "upcycle" movement shows no signs of slowing down -- consumers are hungry to breathe new life and purpose into old furniture pieces. The show is teaming up with Habitat for Humanity of Wake County ReStores for the Habitat for Humanity Furniture Flip Auction. Raleigh's favorite bloggers and designers will come together to show guests how creative they can be at turning something old into something new. These pre-loved pieces will be upcycled into a swoon-worthy décor item fit for a second chance at love. Don't miss your chance to take home these one-of-a-kind pieces (and get ideas and inspiration from checking out all the pieces) at the silent auction (located in the Jim Graham Building).
For more information on the Southern Ideal Home Show check out our website. Don't have your tickets yet? Buy online and SAVE $2!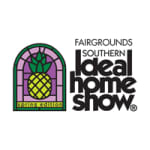 APRIL 5-7, 2019
NORTH CAROLINA STATE FAIRGROUNDS
Mar 29, 2019, 12:35 PM